Vegas Live Dealer Guidelines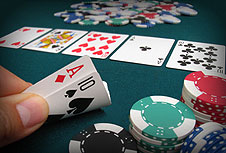 Borgata Answers Demand with $200M Expansion
The expansion of Borgata Hotel Casino and Spa in Atlantic City, N.J. signaled the response of the gaming company to public demand. The company, a joint venture between Boyd Gaming and MGM Mirage has completed the first phase of its expansion and revealed in June 30 the $200 million face-lift to expectant guests and customers.
Renewing itself after only 3 years of existence, the property now has an additional 36,120 square feet of casino gaming space, new restaurants from renowned culinary masters such as Bobby Flay Steak, Wolfgang Puck American Grille and SEABLUE - a new cafe, and a multi-concept cafeteria. The addition of these brand new culinary delights is sure to define Borgata as one of the premier destinations for dining on the East Coast. Another addition yet to be unveiled is a nightclub called Mur Mur set to open later in July.
The second phase of the two-phase $525 million development expansion plan is currently underway, and upon its completion, the Borgata will be unveiling the ambitious 800-room Water Club at Borgata. The new hotel at Borgata is scheduled to open in the fourth quarter of 2007.
The pride of the renovation is the introduction of Atlantic City's largest poker room. It features an 18-table High Limit Room that offers bleacher type seating (with catered food offerings for patrons) for tournament viewing, that can be partitioned off as a'reserved' poker area. The Main Poker Room has 58 gaming tables complete with plasma TVs. Borgata now prides itself as the establishment in Atlantic City that offers the largest variety of games and limits including every variation of Texas Hold'em, Seven Card Stud and Omaha.
"About five months after opening, we began working on plans for expansion," a spokesperson for Boyd Gaming said in an interview. "We were in a unique position in that we were building for existing demand, as opposed to building to create demand. We needed more room and more Borgata," he added.
The Borgata Hotel Casino and Spa has helped spark the revitalization of Atlantic City, having been the first resort to be built in the area in 13 years when it was developed in 2003. 3 years later in 2006, Borgata continues to be a leader in the casino gaming industry, redeveloping Atlantic City's hospitality along the way with its growth.
"We began to see a lot of capital projects get underway when we broke ground three years ago," said the spokesperson.
GAMBLER'S CHOICE



Bonus:

Upto:



Bonus:

Upto:



Bonus:

Upto:
Selected Topics