Vegas Live Dealer Guidelines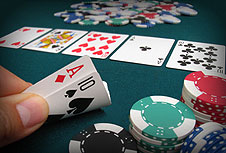 Young Gamblers on the Rise
A research study recently completed by the International Centre for Youth Gambling in Montreal and the University of Connecticut Health Center reveals that for every 20 young people, there is around one who is a pathological Internet gambler.
Indeed, online gambling has increased in popularity over the years and a number of the youth population has squeezed this risk into their lifestyle. Young adults with independent and easy access to the Internet have been drawn to the excitement offered by Web casinos and similar gambling routines online.
Meanwhile, the US Senate has adjourned for a long holiday even as the lawmakers had failed to pass a House bill to curb online casinos. Expectedly, the failure to pass the law has upset anti-gambling lobbyists.
A part of the House bill's measures is to criminalize the processing of payments by American financial institutions for Internet gambling, which means credit card companies, banks, and online processors like PayPal would not be allowed to handle payments of wagers to the offshore casinos.
In spite of several gambling activities deemed as legal in the United States, a basic government policy has always been to secure these gambling activities so that they won't be easily accessible to the youth.
Online gambling collected $3 billion a year in 2001 to $12 billion in 2005. Clearly, anti-gambling lobbyists have a reason to urge the lawmakers to immediately pass a bill curbing this industry.
GAMBLER'S CHOICE



Bonus:

Upto:



Bonus:

Upto:



Bonus:

Upto:
Selected Topics